GM Threats for paging on BoTs?
<!–– 1941 ––>
Riner
<!–– closing ID=FDP or NOFDP 2001 ––>
Posts: 351
Yesterday on Great Lakes a Castle fell in Tram to IDOC. This prompted a large number of players to pull out their scripted house placement Bots. A friend and guild mate of mine decided to start reporting them. This is the course of action we are repeatably told to take. As the system will only allow for 3 names to be reported at a time he was forced to make multiple reports of various BoTs. This should have prompted at the very least a GM to respond by investigating and perhaps banning the accounts. Instead the GM decided that an easier course of action would be to threaten the complainer.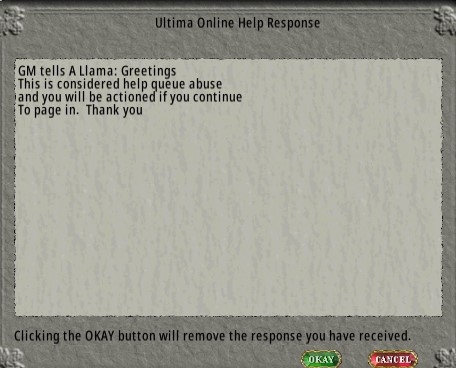 So my question is simple if you are going to threaten those who follow the direction they are given on how to deal with BoT'ers what should we do? Many of us just want an even playing field where the people who take our subscription money work to keep the game free of cheats.