Plant Thorns with Friends, get more Eggs!
<!–– 1941 ––>
Pawain
<!–– closing ID=FDP or NOFDP 2001 ––>
Posts: 7,746
I am not a field connoisseur so I do not know what they all look like. I played on this one all day today.
Each Abomination Bunny can drop 3 eggs to the top three damagers (1 egg per Player) and have one egg on its corpse.
Each player only gets one egg drop per Bunny, so the two other players do not affect your drops. It speeds up your drops because there is no waiting. So you kill more bunnies/time.
Luck increases chance of an egg drop. 2400 is decent odds. 4000 is almost 100%
Party with your group so you can talk and only 1 player has to open the corpse.
Rotate who plants a thorn and you rarely have to stop planting.
I found it easiest to take turns hitting the bunny. Go in the same order, Player one does about 1/3 damage, player two does 1/3 damage Player three kills it. If only 3 are doing damage it takes just a small amount of damage for all to get a chance for the egg drop. So, you do not have to be exact in the 1/3.
It is almost impossible for all 3 players to start damaging at the same time. Maybe in EC you can. But players do different damage if you all attack at once.
The bunnies have 2000HP and no resists. They do like 1 damage to you.
It may be easier to use pets that are not trained. So you don't kill too fast.
With tamers.
The planter tells pet to guard them. The bunny will attack the planter so that pet will always attack first.
Then call the pet off when 1/3 damage is done. Next Player does damage and calls off, then last player kills.
Mix of Tamers and Melee or distance.
The planter will auto attack because the bunny attacks them, so stop at 1/3. Rotate to next damager.
All melee.
Same idea the planter damages first then take turns.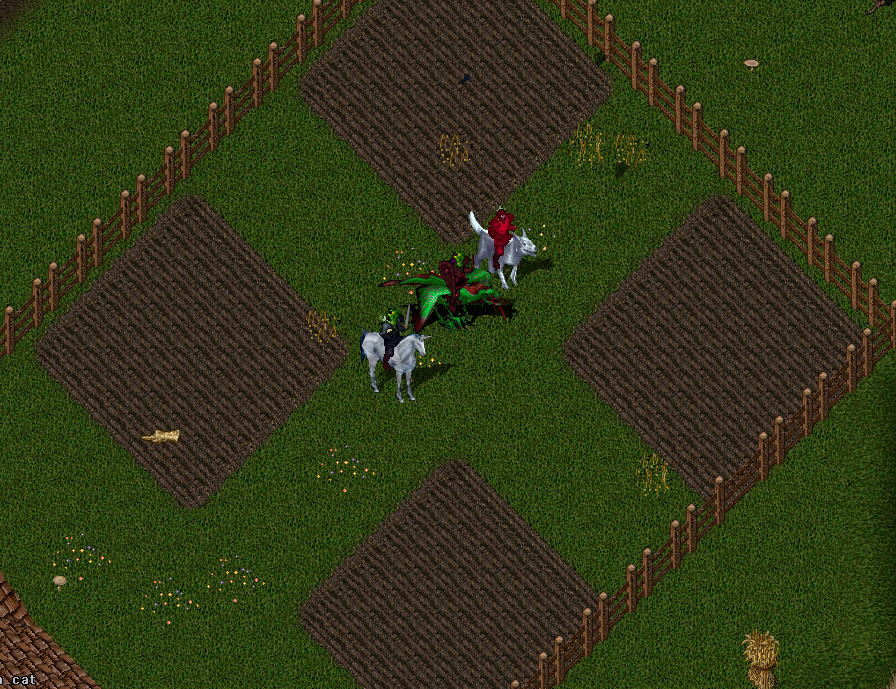 On this field and others with room you can have multiple groups playing at the same time. We had 3 groups on this one for a few hours today.
Each group can grab a square and plant thorns. Yes, the bunnies run all over the place but it is pretty easy to keep track of the ones you make. I think we attacked the wrong bunny one time in many hours of play.
Field Etiquette:
Don't use area spells.
Fight your own bunnies.
Each group plant in a section and go back each time.
Determine how you will split the corpse drop eggs before starting.
No Summons.
Use your thorns wisely and play with others. You still have your chance to get an egg.
In fact if you bring 2 other players along you have more chances for eggs than you would if you are alone waiting on the 3 minute timer.
That's my 3 man wascally wabbit Killing Crew. I also removed one and played with another player a few hours.
Have Fun and Good Luck!
Focus on what you can do, not what you can't.