Developer Meet and Greet for Oceania
<!–– 1941 ––>

Hello all,




At this week's Lake Austin Meet and Greet someone asked about getting one of these for Oceania. The time difference from the dev team to Oceania local has always been a barrier to getting these worked out. Mesanna has asked that we try and pick a workable time for both the devs and players. I put together a small chart of the timezone difference (based off of the second week of November, which will be after the US-shift from daylight savings time).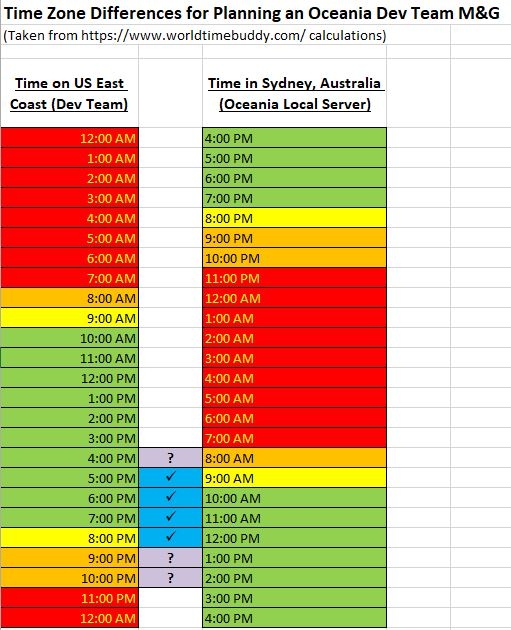 The Dev Meet and Greets are typically held on a Monday night (US East Coast). That would give a rough range of 4 PM to 9 - ish PM their time, so for Sydney time this would be 8 AM - 1 PM-ish on Tuesday morning. Mesanna reminded me that these are after-hours for the devs, meaning they are not on-the-clock.

What I would like is for Oceania players' input on where in that range would work best, or if there are any suggestions about how to make it work otherwise. Please reply to this thread, or email me at tycho.uoem@gmail.com

As far as I know there is not a target date at the moment. November has M&Gs planned already, so probably December / January are more likely targets (unless some are already planned for those but not posted).
Thanks everyone,
EM Tycho