The Undead Tourist Board
<!–– 1941 ––>

EM Kincaid
<!–– closing ID=FDP or NOFDP 2001 ––>
Posts: 166
Event Moderator
Ladies and Gentlemen and everyone else...
I have to be away this weekend. That means a slight adjustment to my plans for your weekend entertainment. But, fear not...
Some friendly skeletons have left a trail of breadcrumbs around some of the dungeons for you. When you find a member of the tourist board, simply say "clue" to them, and they will spout some random nonsense about your next destination. You will also find a strangely coloured object near the guide, which, when clicked will whisk you away to a wonderful vacation spot...Oh, sorry, I mean, to probable death.
Start from the EM Hall, where you will find a skeleton waiting to be clicked, or try his brother, lying around in Luna.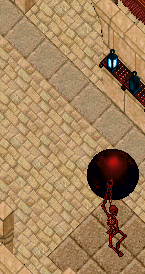 Right at the end, you'll find a clue as to how to get to one of the most-requested locations. The guide nearby will tell you the magic words if you say "clue" to her... and you're on your way!
Enjoy, and see you next week!