Brenda Joy / Joyce of Sonoma
<!–– 1941 ––>

Cinderella
<!–– closing ID=FDP or NOFDP 2001 ––>
Posts: 1,623
Brenda Joy

I first got to know Brenda Joy as a new player in the city of Haven.
She quickly identified herself and asked if there was anything I needed.
I told her that I was a crafter and I had all that I needed at the moment.
She then gave me a commodity deed of 5000 cotton.
She said that would help me get started.
I was so amazed by her generosity.
Every time I met her, she would ask if I needed anything.
I don't have a picture of her character back then,
but if my memory is correct she wore a white robe.
=================
months go by and then the guild I was in, at the time,
is allied with the guild she was in.
I remembered her generosity of the cotton
and made it a mission to repay her.
when I gave her back the cotton, I made her mad at me.
she didn't want anything in return, just to help out.
I told her that she could give it to the next person that needed help.
Then drama happened, not gonna explain, and I had to leave the game for a lil bit.
this is a screen shot from an EM Event around that time.
her character Queen Elf Sandy (now known as Elf Sandy. She did a name change,
because there couldn't be two Queens on Sonoma... the most popular being Queen Mum)
I am on the bottom charger and the man who I later married (but was a friend at this time)
is on the charger, that looks like its standing in the water.
====================
Life happens and I had to stop playing for a lil bit.
I returned to the game a few months after I married Brig Din Em in real life.
And he decided that we were going to be married in game too.
Brenda Joy was my Matron of Honor.
she walked up the aisle before me.
Queen Mum is in pink, next to her.
ceremony was conducted by EM Willow.
During this time, Brenda was teaching my fisher how to do fish mongers quests.
Joyce the Second would fish while I steered the boat. My husband built a fishing shack
at New Magincia where we would store our fish in crates. We both went fishing on our ships
or I would go fish at the docks and she would do dungeon fishing. She wouldn't stop until
I got that 120 power scroll.
==============
Joyce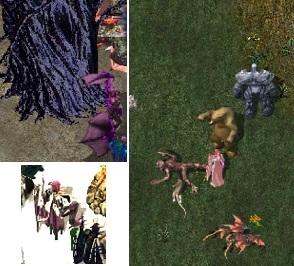 mostly people would see her as Joyce.
she would cast her rising colossus (Shushi called them pea-brain)
and then invis, long enough to run off.
Joyce is an Elder in our guild People's Army of Sonoma (PAS)
PAS gives out medals to members
and this is the ones she received



when I think of her, I think of all the fun times that we have had.
I found this today

she loved to go out on her tokuno ship and fish up the SOS.
but she had trouble with doing the coordinates, so I would help with that.
And then let her fish them up, which she always gave me, because she just wanted to fish.
She was always willing to go out and fight during these events.
During the Titan Invasion, she helped defend my office from a captain.
or maybe we were there just to sit and watch our pets fight.
nah, I was in range that i was using bandages on our pets.
===================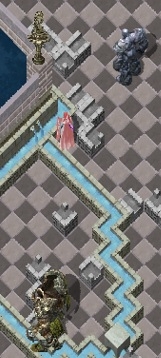 I loved doing shadowguard with her
===================
most of all, Brenda Joy was an amazing woman
that I will miss with all my heart...
I love you Brenda
RIP Brenda Joy (Joyce of Sonoma)
July 22, 2021
===================
I may be sad on this earth,
but you are rejoicing for being re-united with loved ones.
Give Cami and Jocelyn a hug from me and all of PAS that knew them.
And give all the other Sonoma loveds ones a hug too.
Tell your husband all about the wonderful things we got to do together.
I love you Brenda
I will be thinking about you,
until we see each other again.
gone, but never forgotten