Devs help me out here - my UO PvP set-up.
<!–– 1941 ––>

Cookie
<!–– closing ID=FDP or NOFDP 2001 ––>
Posts: 1,165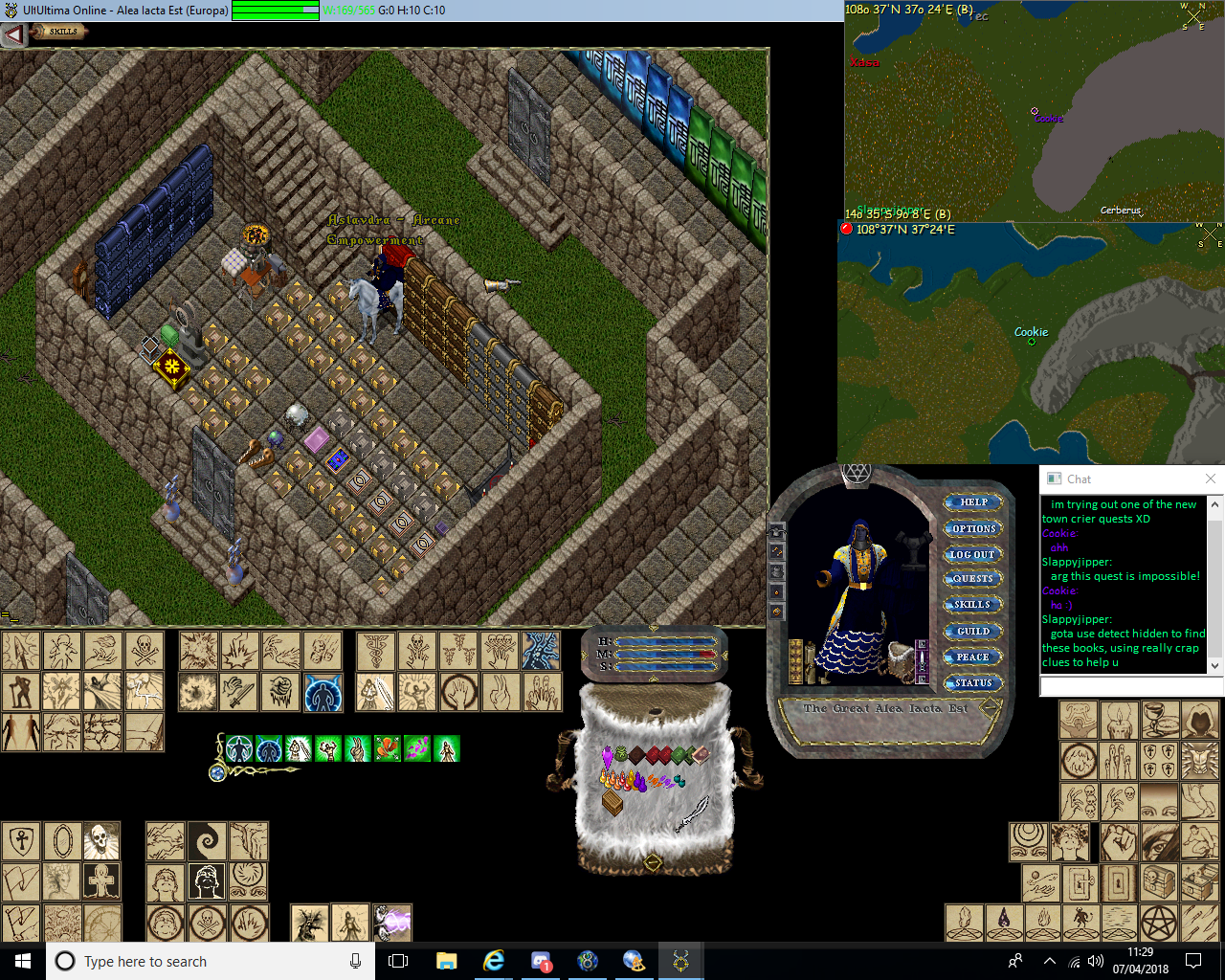 Ok, I know you are buried in EJ, fine, complete it, then do something for me please.
This is my PvP set-up, we can have anything up to 20 players online in our team, and co-ordinating is often hard, sometimes we get it right, sometimes we get it so wrong, but the UO set-up is not helping.
I am running Classic Client - this is perfect, so good, nothing else competes in style, graphics, and fluidity - this isn't part of this request, but of course you should delete EC for your own good, to stop you having to maintain 2 versions, and creating yourselves 2 sets of work. There is only one original which the real players care about.
I am running UOA - this is fine, but please take it over somehow, so you can add to it. Extra potions, and more than 16 macros would be great. UOA is very cool, but can benefit from improvements.
I am running UOAM. This is because this has an ingame Chat function, nothing else at all does to my knowledge. We like to talk, but we may always not be around at the same time, so conversations can stick here, in a way UO Journal does not, with all of it's additional un-necessary spam that blocks out the chat eventually. UOAM is not compatible with EC, it needs to be, again, please take over, or build a compatible map/chat function into UO.
I am running UO Carto - this is so when our full team is on, (no-one on atm early morning) - I can track both the CC and EC players. UO Carto has far less functionality than UOAM, but is the only Map that is compatible with both. You need to do something that has the functionality of UOAM, but is compatible with both. (Or Delete EC).
I am running Discord. This is so I can listen and talk when Pvping. Fine for that purpose. It has a separate chat function that isn't compatible in-game, so I'm running 2 chat functions, as well as 2 maps.
Please sort this mess out. UO CC is perfect, but please make it so I only have to use 1 Map, Chat function and Voice Comms.
Thank you.