Pagan Spellbook
<!–– 1941 ––>

Cinderella
<!–– closing ID=FDP or NOFDP 2001 ––>
Posts: 1,624
edited September 2020
in Bugs
I have been storing my Pagan Spellbook in my bank box and I was trying to put it in my main backpack to see if it has spells in it. It kept telling me I was overweight.
I put it inside my beetle and sure enough it doesn't weigh 1 stone (like it showed when in bank)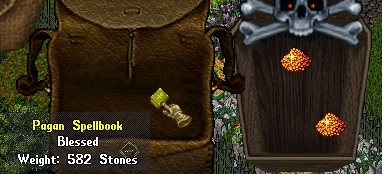 because its in my beetles backpack, I can double click it and it opened up.
As you can see I accidently deposited gold inside it
when I pick the book up out of the bank, it doesn't say i'm withdrawing gold (like it did when I accidently did this with a bag of sending)