Captain's Hearty Rum Bottles Keep Changing Names
<!–– 1941 ––>
Khyro
<!–– closing ID=FDP or NOFDP 2001 ––>
Posts: 227
@Kyronix
There appears to be an issue with the
Captain's Hearty Rum
bottles that drop from Charybdis. They keep changing their ship name after server maintenance.
On Baja we have 2 Captain's Hearty Rum bottles from Charybdis, and after each server maintenance cycle they come back with different names. One bottle has gone through 2 different maintenance cycles and changed each time. We just got another bottle last night, and this morning it had also changed ship names.
These are the bottles: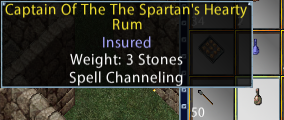 I don't have screenshots of their previous names, but I know one of them was The Lusty Wench (because how do you not remember that name), and the other was The Mustang.
These bottles were kept in a character's backpack during server maintenance. We will try locking them down in a house tonight to see if the same issue occurs.
EDIT

I also just noticed that the bottle names have a double "The" in them. ("The The Spartan's", "The The Beast's"). Most likely because the ship names already have an included "The" as part of their name string.