Fishing Feedback
<!–– 1941 ––>
Kirthag
<!–– closing ID=FDP or NOFDP 2001 ––>
Posts: 541
I am scrolled to 120 in prodo, and plan to get the skill of my soulstone again just because of the fishies!
Fishing in General
Using my giant Brit-Boat, the SV Evergreen, I went galavanting over the deep blue fishing up MIBs and ASOSs. I am surprised that for all of the chests I brought up, not one creature spawned with them. Is this because of TC? Or maybe because of the max skill and my Chiv scares all the monsters away! LOL! I don't know... but is fun again getting all the loots! Love those chests, especially the barnacled ones - can't wait to put these into my castle on Pacific!
MIB & ASOS Loots
Oh.. gods! If I ever see another scroll in my life! I do not remember these chests having so many spell scrolls in them! Maybe replace these with recipes.... say, remove ALL those spell scrolls and put in 1 or 2 recipes? Or maybe put in some cloth, wood, and some cannon resources would be more fitting for these chests. The armor and weapons are on par and expected. Reforging items, gems, and gold all on point. Just, all those scrolls! I don't know anyone doing MIBs or ASOSs who need to fill spell books, so why have so much in these chests?
I know, messing with the loot tables has ticked off people with TMaps, but seriously...
Nice change putting points on the body parts, now there is something to do with them instead of just decaying on deck (such smelly business that). I also noticed they are named along with their wreck! The themed ideas for Halloween are stirring in my head!
Since the Live Stone is permanent, perhaps lower their chances of coming up. Every chest I pulled up had one - or maybe the RNG gods luv me tonight and want me to make more aquariums.
Need to note, the gold chest has a line (a gap I think) thru it... looks like a mismatch on the tile artwork?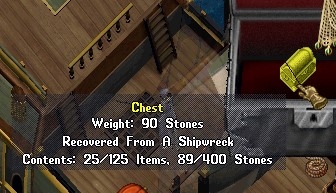 Pretty Fishies
The point of this is to get as many fishies as I can - cos I luv them. I saw a triggerfish and instantly thought, "Humuhumunukunukuapua'a!!" LOL! Hawaii people will understand!
Can fish for them right from the boat into the deep water, don't have to go to land, so thanks for that.
I did notice, although skilled to max (120), I didn't get one fish above the 100 bracket. I'm not done yet though, so perhaps in the RNG god - such a fickle god he is. I plan on doing more so I will see if I get some of those rarer fishies.
Aquariums
So far, I've only made the wall one, and I am totally impressed with how it looks! I've owned salt-water tanks in the past, and "live rock" (aka coral) is always a seeder - thank you for basing this in a bit of reality!
At first, I thought it was non-functional because I have it on display in a contest castle. By accident, I found that only a single tile of the 3-tile item is accessible for interaction.
(my screenshot tool doesn't show the cursor over the tank... sorry)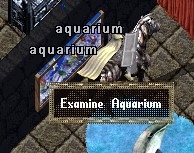 Only the southern-most area (left side) can be used to drop fishies, open, and manage the tank with.
Not sure if this is by design, or because is in a contest structure. It would be better if all three tiles are used for interfacing, or maybe the middle one (as I expected, as most everything else is the middle tile).
The original aquarium and this wall aquarium only accommodate 28 fish at a time. Wouldn't it be prudent that differing sizes hold more or less fish? I'd expect the wall aquarium (being flat) to only accommodate a small amount (maybe 10).
I am seriously going to get back onto the ocean. Beacons have gotten me stressed a bit, and most others have posted enough about them so I haven't bothered. But fishing... that's probably the best way to get this island girl back out on the virtual seas!
Overall, thumbs up for fishing and related content!
Tagged: