Monthly Town Treasure Hunt, 1 PM Sydney Time, Saturday, November 3, 2018
<!–– 1941 ––>

Greetings Oceania!

This weekend we will begin our monthly Town Treasure Hunts and I wanted to go over the setup ahead of time.

Pre-hunt:

Before we begin I will visit each of the town stones and record the current treasury level in the spreadsheet shown below.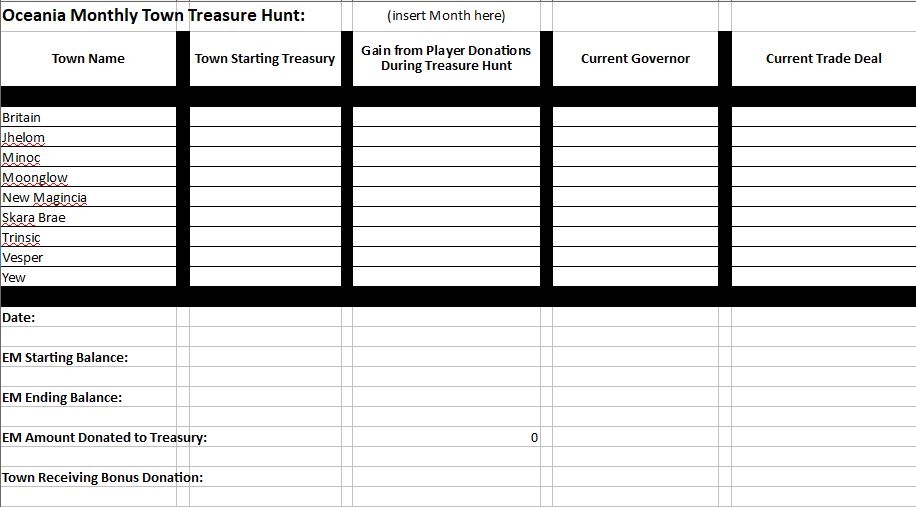 I will also create a series of gates that we will use throughout the event. There will be two-way color-coded gates for each of the city stones, and these will all lead to a central area. When we begin I will have a gate from here to the current treasure map location.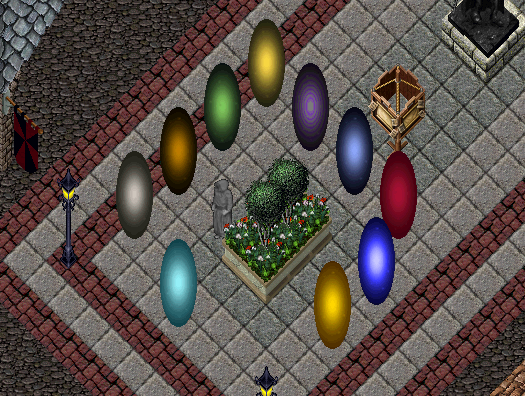 During the hunt:
From our central town-gate location, I will open the gate to the next treasure map. On arrival, I will immediately begin the dig. Players will fight off the resulting mobs from the initial spawn and loot the bodies. Players may also want to tame some of the spawn. We will be doing level 6 and level 7 maps, so there is a chance that
Dragon Wolves, Cold Drakes, and Frost Dragons
will spawn. As players defeat or tame the mobs, I will place a container beside the treasure chest and empty all of its contents into this container. The only items that I will keep will be the skeleton keys, treasure maps, and gold. All other items are up for grabs. Be forewarned! I will be looting the chests RAPIDLY, greatly increasing the number of mobs at any given time.
As players defeat the spawn, they can use the gate system described above to quickly dump gold on the town stones of their choice.
Any items left in the container after I clear the treasure chest will be dumped into the Cleanup bin at Britain mint. Once I dispose of the empty treasure chest, we will gate to the next one on my list.
Post-hunt:
Once all of the prepared treasure maps have been dug up, I will give players a moment to finish donating gold to the town stones of their choice, and then I will close the gate system. While doing so I will check the new treasury level in each town. The town that experiences the greatest increase in its treasury level of the beginning of the event to the end of the event will get a bonus donation of all the gold I pulled from the chests.
Governors, please encourage your citizens to attend and donate gold during the event!
WARNING: With all the treasure floating around there is a VERY GOOD CHANCE that our activities will attract the notice of LARGE HUNGRY CREATURES! *nudge nudge wink wink* I repeat, LARGE, RAVENOUSLY HUNGRY, READY TO CHEW ON YUMMY TREASURE HUNTER CREATURES! *cough cough you're all dead cough cough*
See you there!
-- EM Tycho