Latest Patch Introduced Two Major New Headaches
<!–– 1941 ––>
EricBloodaxe
<!–– closing ID=FDP or NOFDP 2001 ––>
Posts: 10
edited March 2018
in Bugs
They are headaches for me, anyway.
#1
- Client.exe is locked into compatibility mode for Windows XP service pack 3 by default with no option to change. On my system this setting causes the client to crash if I am exposed to roughly 300 houses. ie: If I do a few laps around Luna I will crash. I used to be able to turn compatibility mode OFF and not crash at all. This is highly irritating, can we get the option back please? (see picture, it's grayed out, cannot be changed anymore)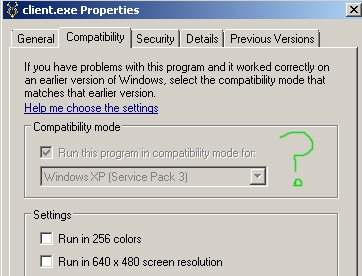 To be clear this is game breaking for me. I cannot run after people in PvP because once I pass too many house I will crash and be killed. It's not fun. 100% repeatable too... I NEED to shut this compatibility off like I used to be able to do. Thanks.
#2
- Equally as frustrating is the innability to run two or more clients at once. While that has never been supported the classic client has always just given a warning that it is not supported but allowed you to do it. Now if I click on the client patcher a second time it no longer gives that warning, instead it simply says "patch error" and refuses to load a second account. I can't hand myself items between accounts and such. Note: You can still use 3rd party programs like Steam or uoassist to open another account, it just can't be done manually on my computer anymore.
edit: I'm not sure why the forum turns me typing
#1
or
#47
or
#555
into a link, but it's not my link.
Ready, Willing and Able