All pet damage against Anon The Mage in The Roof encounter is treated as physical damage
<!–– 1941 ––>

Issue


All pet damage, regardless of the pet's elemental damage type, is treated as Physical Damage when attacking Anon The Mage in The Roof encounter.




In the video below, you can see a 100% Fire Beetle (with Wrestle Mastery spec) repeatedly cause Anon to turn into an Earth Elemental, then trigger his healing when hit.




I then used my warrior with a 100% Fire axe to turn Anon into a Fire Elemental. The Fire Beetle did not trigger healing against Anon in this state.




This same behavior has also been seen with a 100% Cold Platinum Drake.

There is a Discussion about this on the General forum (

https://forum.uo.com/discussion/1867/anon-problem

), but I felt it was necessary to make sure this was logged in the Bug Forum as well.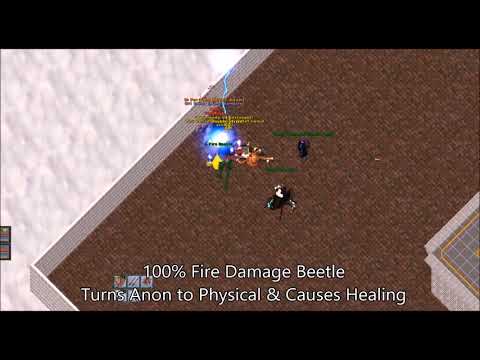 Steps to Reproduce

Take a pet with 100% Elemental Damage (Crimson/Platinum Drakes and Fire Beetle are good pets to test with) to The Roof encounter and have them fight Anon The Mage
Observe the pets turning Anon into an Earth Elemental every time
Observe the pets causing Anon to heal while in Earth form, regardless of pet damage type
Expected Result

Anon should correctly turn into the elemental form of the damage type he is hit with, including damage from elemental pets.