White Tiger Form in Deceit
<!–– 1941 ––>
Pawain
<!–– closing ID=FDP or NOFDP 2001 ––>
Posts: 7,114
Decided to try him out in Deceit.
https://forum.uo.com/discussion/9228/an-easy-to-use-build-for-wildfire-paragons
Basically this is a tank build.
In tiger form you can not use weapon specials or any spells. Other than Mirror image.
So you only do base damage to the targets. You find out what it is like to be a pet with no magic.
Template is like this: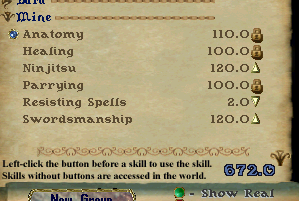 You can have Bushido and use a 2 hand weapon. Cant use any Bushido spells but you can use Honor.
I chose to go with a 1 hand weapon and a shield.
I have 50 points I could use, and have none on jewels.
I use a longsword because it is a high damage sword and easy to get max swing speed.
I just made one that has leeches and is an undead slayer.
I just have to run to a target and push two buttons, Mirror Image and Bandage Self.
You can only attack one thing at a time.
Your main advantage is you do not get hit often. In Tiger Form you get a +5 DCI bonus, so you can have 50 DCI. You use mirror images to distract your victim so it hits those instead.
For the normal stuff in Deceit you just run around and kill them.
For the higher Paras:
I killed two Para
Rams
they both took a while but if I kept my mirror images at 5, I got hit very few times.
One Ram was at the level two teleporter so I kept getting surrounded by spawn but I kept the mirror images up. So I was not getting hit any more than when alone with the Ram. About half through I decided to pick off the skeletons.
Also killed two Para
Poison Eles
they take about half as long as the Rams.
Keep the mirror images up and you don't get poisoned often and you just press Bandage when you do.
Would take even less time if I had an Ele slayer weapon.
Killed one Para
Lich
, it took just a few hits with my slayer.
Mob Crowds
also use Mirror images and you can stay surrounded and not get hit often.
I never went lower than 50 HP past my max.
I was not confident enough to go into the Ram Room, Not sure how I would do surrounded by casters. You have to make the mirror images next to you.
This template does not get a lot of drops but you could use it for as an easy Killing template in this dungeon. This template can kill more things per time than a non casting EV or pet user.
You could also use this to lead around a new or returning player and take the heat while they kill stuff and have some fun.