Possible Bug with logging out with a loaded pack animal while not riding it
<!–– 1941 ––>

Larisa
<!–– closing ID=FDP or NOFDP 2001 ––>
Posts: 975
Before I post this in the bugs section I wanted to see if anyone else has experienced this.
This has happened to me TWICE now.
I forget to hop on my blue beetle and log out. There are things in it's pack.
I log back in, it logs in next to me. I hop on it, and it makes a NEW blue beetle.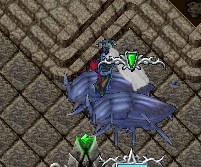 The first time it happened, I unloaded the second beetle (One I am not riding) and stabled it. It didn't actually stable but it disappeared when I stabled it.
Then I took the one I was riding and tried to put something it it's pack and it says this container cannot hold more weight even though there is nothing in it.
So I got and bonded ANOTHER beetle and again forgot to mount it....this JUST happened again. Logged in, beetle was next to me, hopped on it and it made another beetle.
When I hop off it, the second one disappears.
So my first beetle is now broken and I can't put anything in it's pack. This one, because I didn't stable it, it's fine...still a weird little buggy glitch that comes with the 24 hour auto log out thing yes?