New Feature: Ancient Apparition (boss)
<!–– 1941 ––>

InLor
<!–– closing ID=FDP or NOFDP 2001 ––>
Posts: 354
This is a special boss that can be summoned by chanting 3 spells (you type and say them) at any graveyard with a special summoning candle you put on the ground. But instead of spawning, it's initially hidden somewhere in the graveyard. To reveal him you need legendary detect hidden skill. Once you detect it, it will move and hide again. You need to do this three times, it then appears and you can fight it.
The boss is a necromage on steroids. All graveyard spawn becomes the Ancient Apparition's minion army, with significant bonuses to stats and walking speeds (running zombies, shooting shades, etc.). The AA's life force depends on the minions, the more of them you keep dead (he resurrects them when they are killed), the more damage the AA takes. With all minions alive, he barely takes damage. When he reaches 50% HP, a new boss phase starts where he starts using reinforced mass versions of necro spells: strangle, pain spike, etc.
The loot is awesome, of course. There is a rare for him to have a "Chest retrieved from an Ancient Apparation from [Graveyard town name] which contains amazing stuff.
(Screenshot is from the Super Nintendo RPG Secret of Mana. It's Thanatos, the pre-final boss)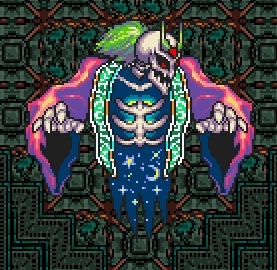 A qua lemmúr wíste, an zen anku vol verde wís.