Pagan Spellbook
<!–– 1941 ––>

Cinderella
<!–– closing ID=FDP or NOFDP 2001 ––>
Posts: 1,563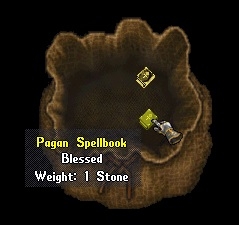 These spellbooks are no longer obtainable and was part of Anniversary content.
You had to get the spells in order to place in the book.
If you dragged the spells on top of the book, the whole stack would go inside.
I have one that has lot of Intervention lol
I don't know if someone has asked before, but could these be made to show the number of spells that it has? if it was full, it would say 3 spells, and if it was empty 0 spells
============
I was saving some of these, because I love the look of them.
but just realized today that you can't hold them.
And it doesn't show the spell count.