EM Event Bosses Causing Enhanced Client To Crash
<!–– 1941 ––>

There appears to be a serious issue with the Enhanced Client caused by the effects EM Event Bosses are using recently.

I would say 90% of the time (if not more), the Enhanced Client will completely lock up during an EM Event Boss. This has been occurring the last 1-2 months, so it is either a recent change to the bosses EM's are generating, or a change to the ability/coding of those abilities.

This is not an issue with just my system, as the most recent occurrence of this was tonight (10/27) on Lake Superior, when pretty much everyone using the Enhanced Client crashed during the boss fight.

This also does not appear to be every shard, so it is something specific being added to certain bosses, but I can tell you from my experience it has been the recent events on the following shards:

- Chesapeake

- Baja

- Pacific

- Lake Superior

I did not have this issue with recent events on Napa Valley or Europa.

This also occurs whether you have the Particle Filter graphics option toggled (I have tried it set to 'All', 'None', and 'Hide AoE' and it occurs on all 3 settings).

The crash seems related to an ability the boss does, but which ability it is I could not tell you.

The crash is also extremely severe, the client locks up completely and sometimes even the entire computer becomes unresponsive forcing you to do a hard reboot. One recent crash killed my video drivers and I lost all display to my monitors, forcing me to do a hard reboot.

This is the only error in the Windows Event Log, which I'm sure will not be helpful: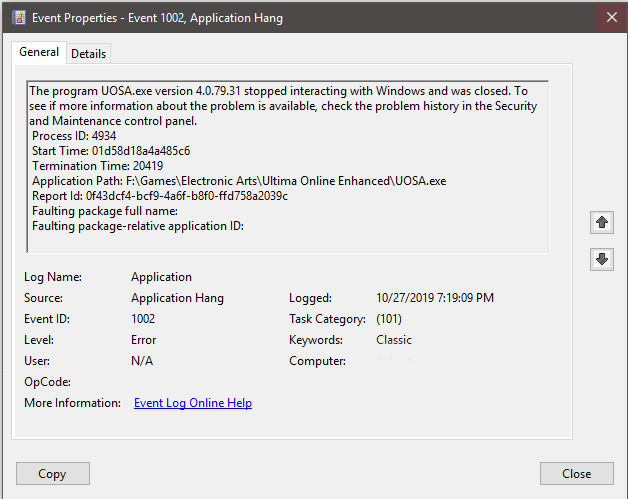 Maybe you can look at the bosses generated at the last several events for the shards listed above and see if there is a connection between abilities used and any recent changes.
If this was just a matter of toggling the Particle Filter, that would be one thing, but even with disabling everything possible, this still regularly occurs.